First preview of what Choqok 1.0 will be a.k.a Choqok 1.0 Alpha1 is ready. (Codenamed "Reloading")
One of important TODOs for Choqok was making it plugin aware, And now, It's new, plugin base design is ready for developers who like to join in its development.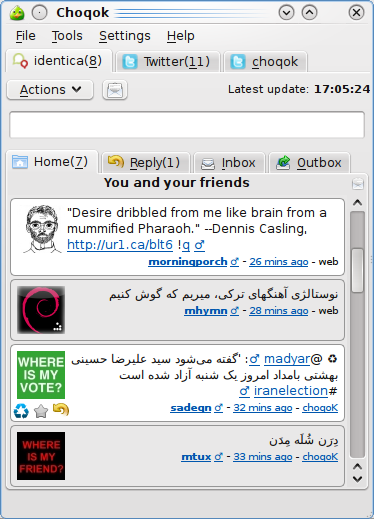 Currently there are 3 types of plugins we can extend Choqok with. You can find some useful information about how to write a plugin in gitorious wiki pages, and 2 new pages added to Choqok website, Development, and TODO List. They are all useful for developers to join in extending Choqok.
What's new for users?
Most of changes on this release are sensible by developers, but there are some for users:
Some features did not implemented in new design, that you may miss on upgrade:
Search API implementation. (So clicking on user names, group names and hashtags will do nothing!)
Notifies for new posts.
Twitpic.com integration.
"Who is" and unTiny
New features on new design are:
Ability to mark one post, timeline or blog as read.
Ability to change Accounts order on main window.
Ability to add an account read only, and don't show an account on "quick post" dialog.
Identica and Laconica entries on Accounts management, merged and now you can see them under "StatusNet" name, the new name of Laconica.
And some other less sensible changes…
And you have to re add your accounts because of changes…
Should I upgrade?
however it's a developer preview, But it's quit stable.
If you want to try new changes and don't need leaked features, an upgrade may be funny, otherwise, I recommend you to stay with previous stable release (0.6.6) and wait for a later version…
Download
You can get the source code from here.
Icon color change
I was launch a poll about Icon color between Green and Blue, and you choose the green one to be official icon. Thanks to all you for participating on it.
Poll results:
Total votes: 609
Green Icon: 318
Blue Icon: 291