I'm proud to bring you first Choqok 1.0 beta, a.k.a "Tulip".
Long time passed after previous release, I know. The main reasons are some personal problems. BTW, Here it is: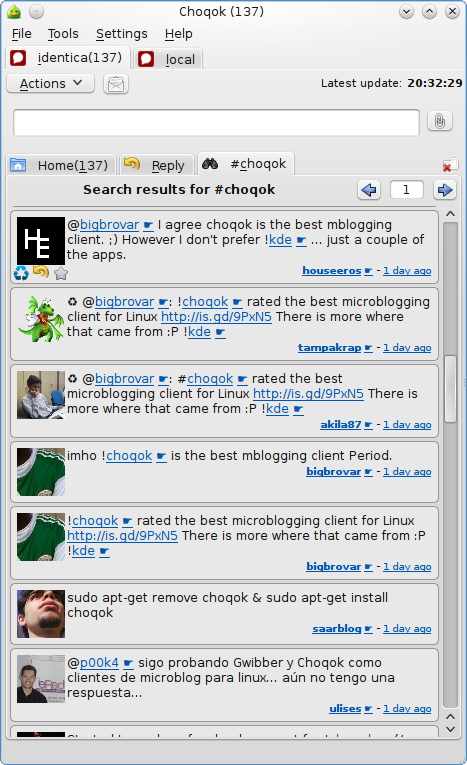 What's new in this release:
Many of reported and known bugs have been fixed.
Actions to subscribe/unsubscribe and block a user, added to User menu. (

FEATURE:208126

)
Choqok startup depends on count of posts shown in any timeline, So with help of Roozbeh Shafiee (ROSHA) an Splash screen added to Choqok.
There is a new feature in new versions of StatusNet/Identica (>0.9) That you can attach a file(such as image) to a dent. Support for this added to Choqok too.
Ability to select which timelines we like to have in one account.
And 2 new timelines for Twitter and Statusnet/Identica accounts: Public timeline and Favorites.(Their disabled by default)
View a conversation thread, as well as what we had in 0.6.6 version. (

FEATURE:194031

)
Saving search tabs on quit, and re-open them after restart! (

FEATURE:221360

)
Saving read/unread status of posts on quit. [by Daniel Schaal]
Show avatar of user's posts at right instead of left! To distinguish them easier.
Optional ReTweet/ReDent prefix. (

FEATURE:215855

)
Configure and About options for shortener plugins!
New Plugins in this release:
"ImagePreview" plugin to show a thumbnail preview for images. (Currently: Twitpic.com and YFrog.com are supported)
"Twitpic" plugin to upload and share photos to Twitpic.com service!
New Shortener Plugins:
ur1.ca [by Bhaskar Kandiyal] (

FEATURE:194064

)
Yourls shortener! [by Marcello Ceschia] (

FEATURE:221389

)
You can download the source package here, or try binary packages that users and distribution maintainers will deploy.
Enjoy Choqok!?
Yes, You can make a donation and help me to keep it up and even better: