Choqok 1.0 Beta4 (codenamed "Wind") proudly released With so many fixes around previous betas and some new features and plugins.
You can get the source code of this release here, or wait for binary packages that your distro maintainers will provide you.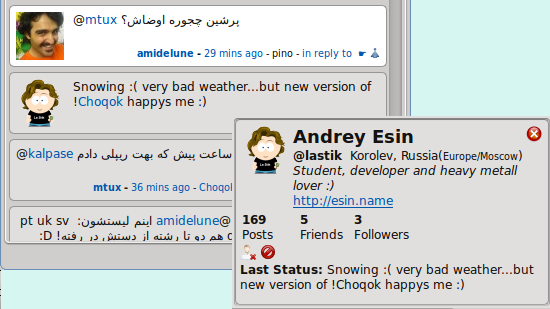 Change summary:
Prevent shortening process to freeze UI
Remove the ☛ sign for tags or groups in StatusNet accounts, using the menu solution like @username
"Configure Notifications" in Settings menu.
Twitpic plugin fixed to work with OAuth.
"Reply to USER", "Write to USER", "Reply to all" actions added to reply button menu.
New look for Whois dialog.
Dictionary switcher in text input fields via context menu.
StatusNet: Info for users across multiple status.net servers
Filter plugin: Option to just show own replies or just show replies to my friends
Image Preview plugin: Support for img.ly and Plixi (By Alex Infantes)

Many of known and reported bugs fixed.
New Plugins:
ImageShack uploader (Just image uploading)
Flickr uploader (Just image uploading)
We've removed some plugins:
u.nu shortner, due its service discontinued
YFrog uploader (temporary)