Choqok 1.0 RC1 codenamed "Huma" released, And it's the last step towards version 1.0
We planned to release the final version 1.0 at 26-Dec (Its Second Birthday Anniversary), So with this release Choqok entered into a hard feature freeze. And we'll be happy to get bug reports. So don't hesitate on bug reporting.
You can download and build the source code for this release from here.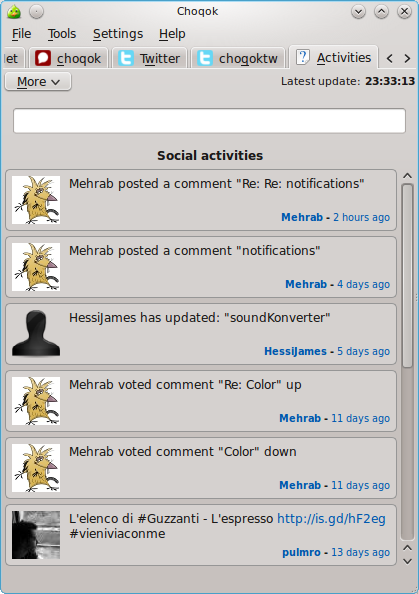 Or check download page for binary packages.
We have 5 new plugins with this release:
OCS Plugin to support "Open Collaboration Services Activities API" (For opendesktop.org)
IMStatus plugin to set your latest post to status message in IM clients (Kopete, Pidgin, Psi and Skype)
Twitgoo image uploader
Mobypicture image uploader
Posterous image uploader
Other changes since previous beta release are:
Support for Twitter Lists
Support for LibIndicate to use as an alternate notification system. (It's Optional)
Option to show timelines in reverse order
Additional action in input boxes' context menu that will shorten all selected URLs or all URLs if there's no selection.
"Hide Post" action for post widgets. So, You can hide one post or all posts from a person! Via Context menu.
BiDi support is back.
Support for Twitgoo service in imagepreview plugin. (Alex Infantes)
Digg shortener plugin removed: "As of May 17th, 2010, the Digg short URL feature will be available only for URLs that refer to stories submitted to Digg" http://about.digg.com/blog/update-diggs-short-url-service
Send reply to original author of repeated posts + cc to repeater.
And there's other fixes and improvements around current functionalities.
And with this release we have two new
optional
dependencies:
libAttica
for OCS plugin and
libIndicate-qt
for Indicator notifies support.